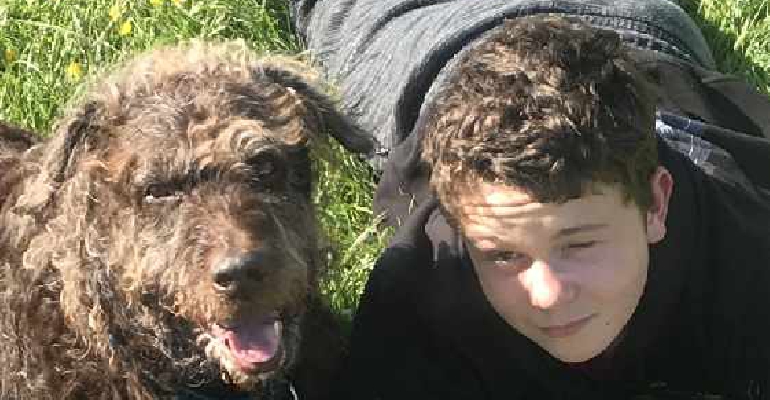 Tramp and Harry
At 11.30pm last night (Friday) 15-year-old Harry, from Wootton, had his missing Snoopy bag returned to him.
Following an appeal by Isle of Wight Radio and "faith in human nature" the much-loved bag has been returned to its rightful owner.
As previously reported by Isle of Wight Radio, Harry, who has autism misplaced his bag on Thursday, at the Tesco car park in Ryde.
Harry told Isle of Wight Radio, aside from his valuable and expensive possessions, he wanted the photos back of his dead dog Tramp- desperately.
However, last night an Islander made contact with Harry's Mother Tessa on Facebook and they arranged for it to be returned at 11.30pm.
All of Harry's belongings were still in the bag. But a packet of cookies were "eaten", according to Tessa.
Tessa, Harry's Mother told Isle of Wight Radio:
"I am absolutely thrilled to have the bag returned to Harry and so grateful the right thing happened.
"Everything was still in there which was amazing. Bizarrely the only thing they had was a packet of Harry's cookies - which were eaten. I'm an optimist and I have faith in human nature and I am so happy for Harry to have it back.
"He didn't sleep the other night and last night he just collapsed out of exhaustion. But when the bag was returned he couldn't believe it, he was so happy! He just kept running in and out of my room all night saying - I am so happy it''s back."
A picture of what Harry's bag looks like can be seen below.