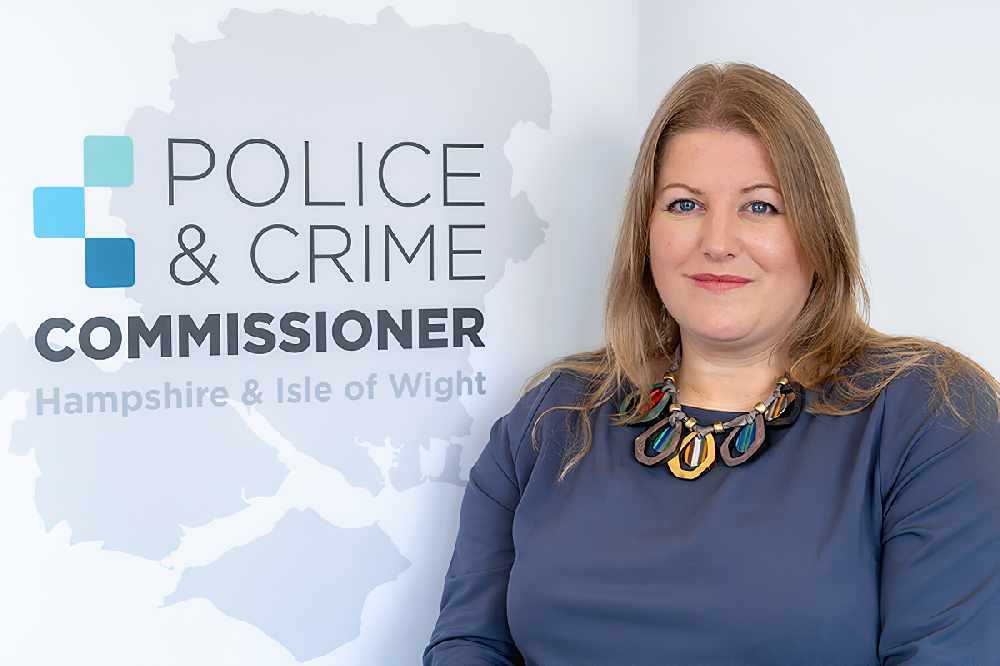 More Isle of Wight officers, a potential name change for Hampshire Constabulary and tackling a spike in crime after COVID, are among the top priorities facing the region's newly-elected Police and Crime Commissioner (PCC).
Conservative Donna Jones is visiting the Island today (Friday), four weeks on from her election as PCC for Hampshire and the Isle of Wight.
She has warned of "significant challenges" when coronavirus restrictions eventually ease, and has emphasised the need to increase the number of officers on the Island.
PCC Jones, who has previously worked as a magistrate and served as the leader of Portsmouth Council, told Isle of Wight Radio:
"We're all hoping that June 21 sees the end of any kind of restrictions. Hampshire and the Isle of Wight police are getting prepared for that.
"We know it's going to be a very busy summer, whether restrictions are lifted or not. The summer months are the busiest for any police force anywhere in the country. So I've been speaking to the chief constable and assistant chief constable about how they're going to be dealing with spike in crime levels we're anticipating.
"My experience has been throughout the pandemic. Until four weeks ago when I was elected, I worked as a magistrate for 16 years. Working as a member of the judiciary over the last year with courts being partially opened, having to do hearings in a different way and actually the backlogs that have now amounted in the court system is a concern for me because we need people brought to justice as soon as possible.
"We are getting prepared but from what I've been told, the district commander, the policing team on the Isle of Wight are ready. They know it's a busy time of year for them because of the number tourists visit the Island. Of course that brings challenges in terms of anti-social behaviour and actually some sexual violence because of a consequence of the increase in consumption of alcohol."
Laying out her plans to increase the number of officers based on the Island by the end 2023, PCC Jones said "policing is not rocket science, it's a numbers game."
LISTEN: PCC Donna Jones chats to Isle of Wight Radio journalist Oliver Dyer.
She is proposing 600 new policing staff across the region, but could not say the exact number allocated to the Island. She said:
"That is my number one commitment. The chief constable is working through that [600 number] to work out how many that will be on the Island but once we've got the 600 by the end of 2023, I want to carry on and recruit even more.
"More police equals more detection and more prevention, which is key. It's all very well and good having more [officers], but people want to see them out and about. People have told me that they don't feel safe in the community so that is something we need to address."
Less than a month into the job, PCC Jones says she has already met Home Secretary Priti Patel three times.
As part of her role, she will be tasked with holding the chief constable to account, set the policing budget and outlining the force's priorities.
Top of the list, PCC Jones says, is to make Islanders feel more involved with the force.
She said she doesn't want Islanders to feel like an "add-on", and is consulting on plans to change Hampshire Constabulary's name.
Speaking to Isle of Wight Radio, she said:
"There are some very complex issues [on the Island]. People that say, crime levels are lower on the Isle of Wight that live in Portsmouth and Southampton, I don't think they understand the complexities of the Island. They are there and I understand them and I'm listening and I'm working with the local police here to make sure there is an adequate robust fit for purpose police force on the Isle of Wight.
"In terms of the name, I don't want people who live here to feel like they're a bolt-on to the mainland. They are not. The Isle of Wight is unique. For me, making sure the Isle of Wight is reflected in the police force is the least we can do."
A consultation is underway, which asks people on the Island whether they would support a name change to Hampshire and the Isle of Wight Constabulary.
You can comment on the plans here.
If it is supported, PCC Jones says she will write to the Home Office, and eventually get it approved in law.
She says it's not a "rebranding exercise", and will not waste money for the sake of it.
Figures from the last year show the overall rate of crime on the Isle of Wight has fallen, but the number of drug offences, sexual offences and incidents of domestic violence have risen.
PCC Jones says she will look at addressing these areas with the Island's District Commander, Superintendent Sarah Jackson.
"Sarah has her district commander's policing priorities for the Island and they do include those. Sexual violence, drug-related harm, those two things are often quite closing linked as well", PCC Jones said.
"I've looked through her crime plan for the Isle of Wight and am confident and satisfied that it is robust. I've checked it with the council to ask them what they think and they are very happy with those priorities."
Donna Jones says she plans to meet with MP Bob Seely later today, as well as members of Hampshire and the Isle of Wight Fire and Rescue Service.