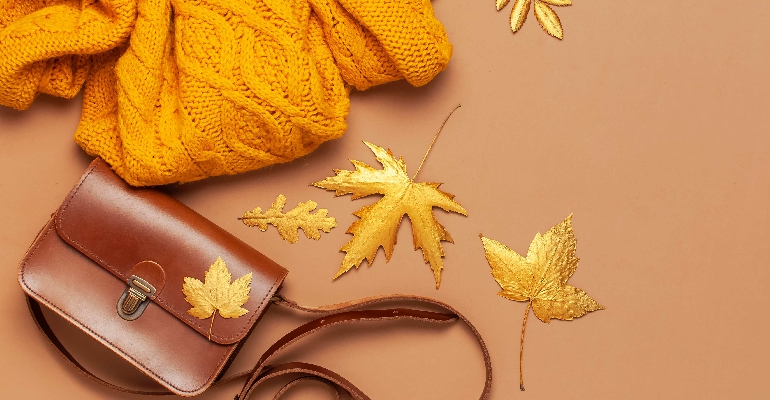 We give our top tips on the colours to wear for the season ahead.
While the fashion industry has been dealt a massive blow by the coronavirus pandemic, it's not a knockout punch. One of the key ways to express our identity and individuality, our love affair with all things fashion is set to continue, albeit with a more considered mindset.
Here we identify the main colour trends for Autumn 2020 and suggest how to integrate them into your wardrobe for maximum impact and style.
Back to Black
It's official – black is the new black, with strong dark silhouettes populating the runway. Structured, belted and oversized, the black coat was shown in a range of tactile fabrics, including neoprene, leather and vinyl.
Also look out for the redesigned little black dress, given a form-fitting 90s twist with square necklines and cut-out detailing to reveal a glimpse of bare flesh.
Deep Jewel Tones
To add a touch of luxe, sophistication and brightness to the season, bold jewel tones such as ruby, sapphire, emerald and amethyst will turn heads and get you noticed. Pick one colour and use different shades to colour block your outfit – matching tights will ensure you stand out.
Jewel-coloured leather separates and outerwear exudes serious style and glamour, working well with the strong and structured contours striding down the catwalks. These colours also work well in velvet, adding a touch of depth and mystery to an outfit.
Toffees and Coffees
Whether you enjoy a latte, cappuccino or espresso, dark toffees or caramels, be prepared for every shade of brown as the classic camel gets an update. Wear as a neutral for a cosy, warm and cheering vibe during the cold winter months.
Marries well with oversized knitwear, sweater dresses and chic capes.
Shiny Metallics
For statement dressing and special events, metallics will not let you down. Pair gold with black to tone down the bling or try a shot of silver to inject some sparkle into your winter wardrobe.
Alternatively, metallics are great accessory colours for those not ready to embrace the full-on glamour pulsating from these shades.
Singing the Blues
With classic blue crowned the colour of the year for 2020, expect to see this versatile colour everywhere, along with a range of shades from innocent and youthful powder blue, through to deep, dramatic and romantic navy.
Whatever your skin tone there is a shade of blue for you. From sober to bright, this dependable colour reflects a classy and stylish self-assurance, whether worn as evening wear, outerwear or separates.
Natural Off-White
Feeding into the sustainable and recycled trend, fashion-forward disciples will be trading in pure white for off-white this season. As a soft, warm shade, this works well for ruffled blouses and folksy billowing dresses.