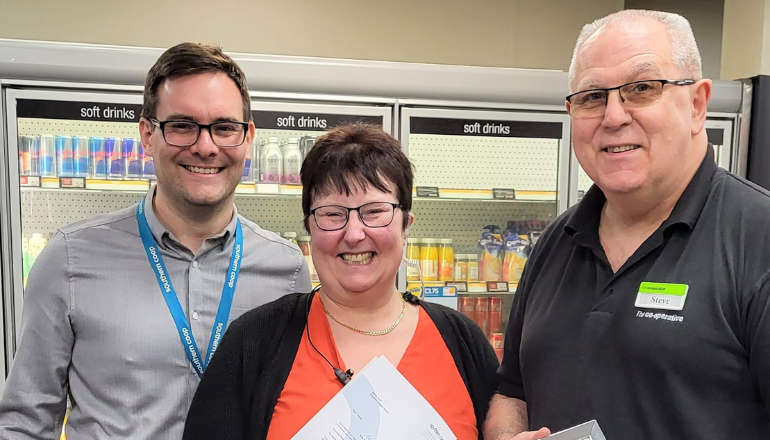 Steve Hunt (right) with Area Manager James Knott and Store Manager Chris Boulton
Retail colleagues on the Isle of Wight have been marking the 30-year journey of Steve Hunt who spent two decades at a store in Ryde before switching to Shanklin to become a baker.
Steve Hunt, 61, started his working life at Nurdin and Peacock's Cash and Carry where he stayed for 10 years before he made the move to a customer facing role.
After he moved from Newport to Ryde in 1983 following his marriage to wife Vicky, Steve became Store Manager at the David's convenience store which later became part of Southern Co-op.
He has just celebrated 30 years with the company but it is not just the name that has changed over the years as Steve can remember having to go and collect goods from the cash and carry to stock them in the shop.
He has fond memories of securing special offers for his customers on sugar, butter, and German wine.
There have also been success stories as he recalls a mother and daughter who used to take a weekly walk to the store in West Street to buy a scratch card which landed them a win of £77,777.
Theirs were just two of many faces he became familiar with over the years before he took a change of direction and moved to The Co-operative Food in Shanklin to specialise as a baker.
Steve, who enjoys sea fishing in his spare time, said:
"It was a big change from cash and carry to retail as I went from pallets and forklifts to much smaller cages of stock.
"It was very much a local store so I knew most of the customers by their first names and there's still an element of that now I am a baker.
"I have been a baker for 10 years now and I have always enjoyed early mornings. I still enjoy a maple pecan and a ciabatta roll but funnily enough I don't notice the smell of the bakery anymore."
Steve remembers speaking to the daughter of the previous store's owner in Ryde about an event during the war where a blast from the nearby cemetery sucked out the store's window along with the stock she was hanging up all over the road.
She kindly shared with him a photo of the store which he proudly displayed on the store's wall for many years.
Chris Boulton, Store Manager in Shanklin, managed to surprise Chris on his 30-year anniversary with a bottle of malt whiskey.
She said:
"He is very passionate about his bakery department and very on the ball —he's really taken ownership and he is very dedicated.
"I don't have to worry about anything which is lovely as you don't often get that.
"He's always looking ahead at the next step. He's a good team member. I have got a good team over here and it's nice to have someone with years of experience."
To find out more about a career with Southern Co-op, visit www.southernco-opjobs.co.uk.