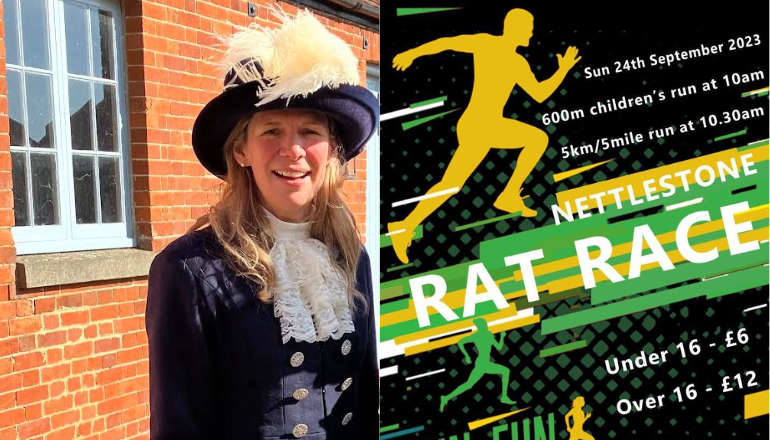 The Island's High Sheriff has confirmed she will compete in the annual Nettlestone 'RAT' running race to raise awareness of her literacy programme for primary schools.
The event, which is sponsored by Grace's Bakery and Hovertravel, will take place on Sunday September 24th, commencing with a 600m children's run at 10am.
All proceeds raised from the event go to the Friends of Nettlestone School (FONS) organisation, which is run by parents of children at the school.
Keen runner, Dawn Haig-Thomas - who has been High Sheriff since earlier this year - will compete with dozens of other runners around a 5-mile course taking in the parish of Nettlestone and Seaview.
There is also a 5-km course for those who want to complete a slightly shorter distance.
Both groups will start together at 10.30am after a quick warm-up routine by local fitness instructor Phil Bell.
Race organiser Sarah Peake says:
"We are so excited this year to be running our first RAT Race since the pandemic."
"It's such a great - but challenging - course, taking in some of the most picturesque parts of the area."
"The routes are both circular with no double laps or out-and-back sections - but be warned, it is a little hilly!"
Not only is the Island's High Sheriff planning to run the course, but she will also be on hand to give out medals for both the children's run and the 5km/5m runners.
There are a host of amazing raffle prizes available to those who've entered any of the events.
Dawn Haig-Thomas, High Sheriff of the Isle of Wight says:
"In my year as High Sheriff, I have a special focus on helping to improve literacy at primary school age so I'm delighted to help Nettlestone Primary raise much-needed funds through this event.
"I'll be running with my children and hope to spread the word about the importance of literacy in creating a happy, healthy and successful future for the next generation."
Online entries close on Thursday September 21, with limited entries available on the day. For further information and to enter click here.