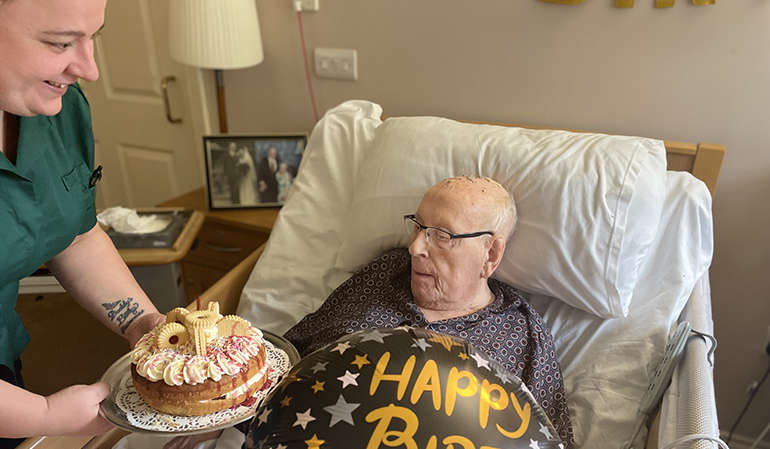 An Isle of Wight Care Home resident has celebrated a huge milestone - his 101st birthday!
Centenarian, Ken, resides at Orchard House care home and on Sunday celebrated his birthday, with the help of his loving family and staff at the home.
Born on September 17th, 1922, in London, Ken's life has been a testament to resilience, service, and a deep passion for horseracing and gardening.
Ken embarked on his career in the Civil Service, but his journey was temporarily diverted by the outbreak of the Second World War. During these trying times, Ken played a pivotal role as a member of the Tank Division.
He saw active service in multiple regions across the world, including Italy, Greece, and North Africa. His unwavering dedication and bravery during these challenging times were an inspiration to all.
After the war's conclusion, Ken resumed his position in the Civil Service, but his heart belonged to more than just his profession. In 1949, he united in marriage with his cherished wife, Iris, in Essex. Their honeymoon in the serene landscapes of Devon created memories that would last a lifetime.
Ken's connection with the Isle of Wight began in late 1962 when a job transfer brought him to this picturesque island. He made a farsighted decision to purchase a property still under construction. By 1963, his dedication saw the completion of their new home, allowing his wife and two daughters to join him on the island.
Throughout his storied life, Ken nurtured two profound passions: horseracing and gardening. His green thumb and gardening prowess were legendary, earning him numerous prize rosettes and accolades. His Sweet Peas and Onions were nothing short of awe-inspiring and stand as a testament to his horticultural talents.
Ken's 101st birthday is a remarkable milestone, a celebration of a life well-lived, and a tribute to his enduring spirit. His legacy of dedication, bravery, and green-fingered excellence will continue to inspire generations to come.