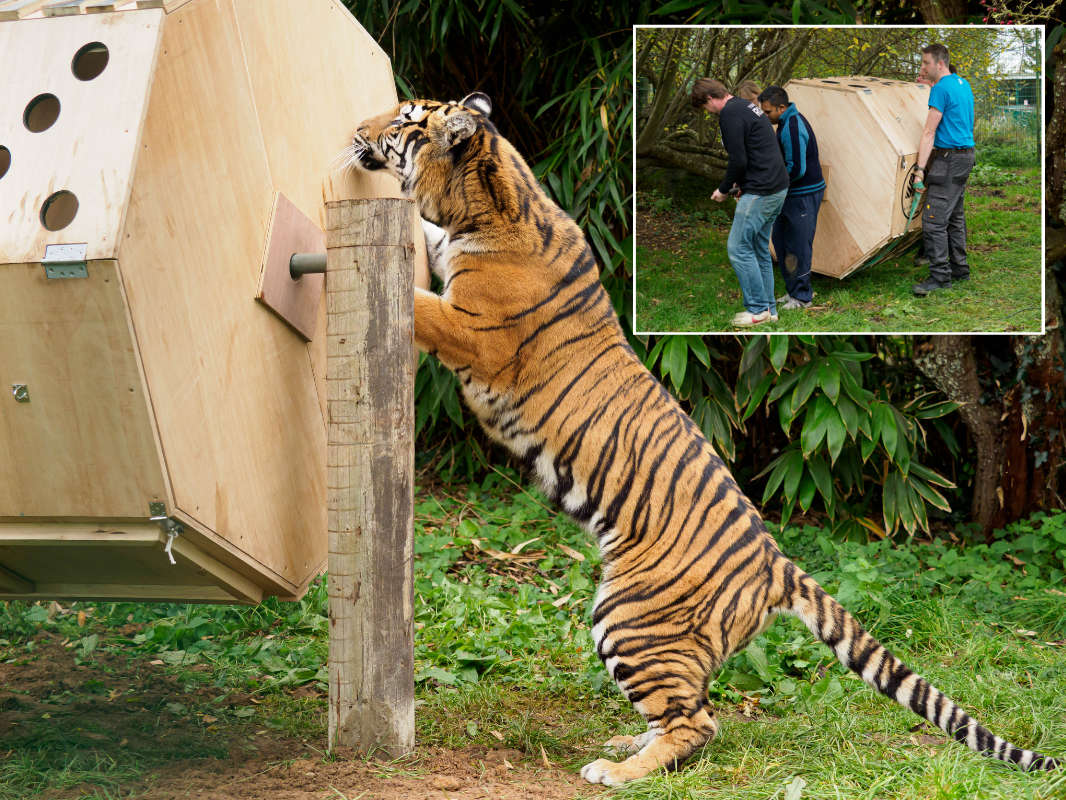 British Royal Navy members were tasked to the Isle of Wight Animal Sanctuary this week to install a giant 'Tiger Tombola' toy.
The toy, which measures 1.3m x 1.4m, was crafted by Bembridge carpentry expert, Alastair Nye.
Eight members of the British Royal Navy came over from the mainland as part of a team building exercise.
The task to install it within the tiger's habitat combined strength, ingenuity and problem solving skills.
Alastair Nye said:
"I was so thrilled to see all three tigers investigate the Tombola immediately. It was a proud moment to see the toy in action and showed me that all the hours of design, production and craftsmanship had been worthwhile.
"When I first met the team at The Wildheart Animal Sanctuary to get the brief for the project I learned so much about how vital enrichment is to the welfare of their animals both mentally and physically so I knew it was a crucial to get the project absolutely right. It was amazing to see the tigers interacting with something I had put so much time and effort into."
Earlier this year, The Wildheart Sanctuary commenced a nationwide search for a skilled carpentry and DIY expert to design and create a toy that would stimulate the tigers' senses and challenge them both physically and mentally.
The Sanctuary posted their request on Airtasker, a marketplace that connects people who need tasks done with skilled professionals, and offered £500 for an individual to complete the task.
41-year-old Alastair was selected and designed a Octangle toy, made out of plywood. It spins to allow the tigers to explore the compartments while it rotates. There is also a sliding door which opens to a compartment where the keepers can hide treats.
Lawrence Bates, CEO of The Wildheart Sanctuary said:
"The Wildheart Sanctuary, is a special forever home for tigers, lions, lynx, lemurs, monkeys, meerkats and reptiles to flourish in a caring environment.
"As part of our commitment, we partnered with Airtasker to find someone in the local community who could use their skills to create a toy that would keep our three tigers happy, fulfilled and stimulated - both physically and mentally. We were proud to offer a unique opportunity for a Tasker like Alastair to use his carpentry skills and creativity to monetise his skills to create a bespoke toy for our tigers."
"We were impressed by how quickly we were connected with Alastair, and from his skilled craftsmanship to creative ideas - he certainly delivered! The variety of skilled Taskers on the platform is fantastic, and we'll definitely use Airtasker again for similar tasks and also in our daily lives."
The toy has now been given to the Sanctuary's three female tigers – Natasha, Zoppa and Antonella – who came to The Wildheart Animal Sanctuary in 2018 having been rescued from a travelling circus in Spain by rescue partner, Animal Advocacy and Protection (AAP).
Natasha, aged seven, is the youngest and most vibrant of the females, both affectionate and curious and likes to think she's the boss!
Zoppa, aged nine, is in fact lame on her left front leg (the word 'Zoppa' translates to 'lame' or 'limping' in Italian), and although her injury is a permanent disability she has adapted to it and lives a very good life – in fact she was the first one to play when the toys was brought out.
Antonella, aged 16, is the oldest of the tigers and described as a "completely awe-inspiring individual". She is more introverted than her companions and is quite happy in her own company, often giving the impression of being rather aloof. She can, however, be kitten-like and sociable too - when she does interact, she has a breath-taking presence.
Airtasker, Tim Fung, said:
"It's super exciting to see Alastair share his unique skills with the Wildheart Sanctuary to create something truly special that enriches the tigers' lives.
"As an open marketplace, there's an infinite range of things you can get done on Airtasker – and while you can find skilled professionals to build bespoke toys like this, you can also use Airtasker to get help with everyday tasks like furniture assembly, painting or even hanging a picture", he said.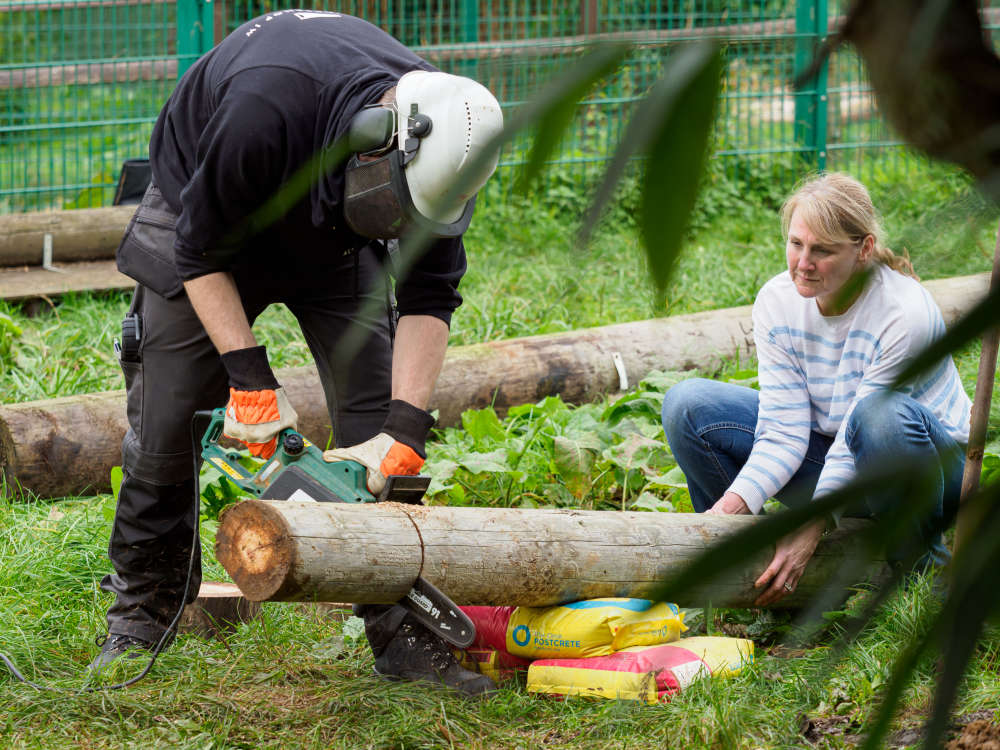 Previous image
Next image