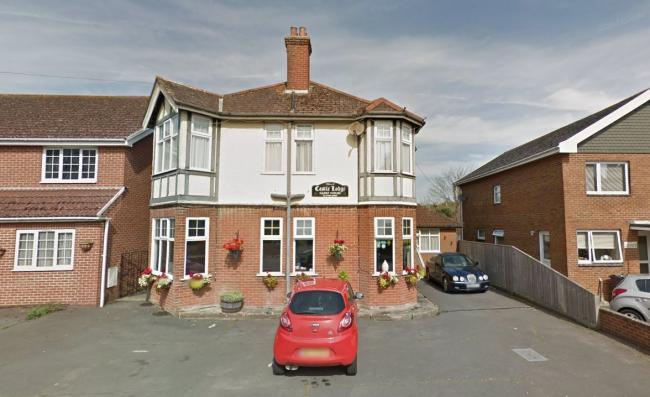 Castle Lodge guest house, on Castle Road
Planners have recommended the go-ahead for a house of multiple occupancy (HMO) in Newport — despite residents' objections and a petition.
Two Saints, a provider of the Isle of Wight Council's homeless pathway, is seeking permission to change the Castle Lodge guest house, on Castle Road, into an 11-bed HMO for those trying to get off the streets.
The not-for-profit service says the HMO would provide supported affordable housing accommodation for those who need it, reducing and preventing homelessness on the Island.
Residents would not be placed in the accommodation straight from the streets, but be at stage two of the homeless pathway, which was introduced last November.
At that point, the homeless are deemed ready to live independently and successfully, and are able to 'thrive and not negatively impact the local community'.
However, the planning application was called before the council's planning committee by former ward member, Cllr John Hobart, who raised concerns about adding to the existing problems with a congregation of rough sleepers, drug takers and drinkers in the local area as well as the anti-social behaviour impact on local families, and the number of residents is too many.
A petition against the change of use was signed by 27 Castle Road residents, with 69 people officially submitting objections on the council's planning register.
The concerns were that it would adversely impact existing residents' quality of life, community resilience and cohesion and a safe, secure and peaceful environment.
Five comments of support were received, reflecting the Island's need for affordable housing, HMOs and homeless resources.
The council's housing needs service manager said if the proposal was not agreed the risk was that the Island would see an increase in rough sleeping and single homelessness.
since 2015 the Island had seen a 500 per cent increase in rough sleeping – from four people in 2015 to 24 in 2018.
Hampshire Constabulary's Designing Out Crime Officer said they supported the application but only for residents at the appropriate stage of their recovery.
The council's planning officers said it was clear from the comments of the housing needs service manager and planning documents the proposal would make an important and vital contribution to supporting the strategies aimed at tackling Island housing needs.
Officers said while the concerns and fears of residents and others were fully acknowledged and appreciated, the HMO would complement, not negatively impact, the residential character and appearance of the site and surrounding area.
Five conditions have been attached to the proposed permission, including no more than 12 residents in the HMO at one time and a management plan being submitted including details about security measures (CCTV), how residents would be selected and supported and how complaints would be dealt with.
The decision will be made by the Isle of Wight Council's Planning Committee on Monday, June 21.